The New PDF Review Module module for Switch is a simple, but very powerful PDF approval tool with some unique functionality and primarily designed to automate and replace manual email proofing process. At Drupa 2016 Enfocus took the industry by surprise when it debuted a new PDF Approval technology for its award winning workflow automation platmorm Switch. Based on PitStop, Enfocus' other award winning technology for the preflight, correction and editing of PDF files, the PDF Review Module provides a simple, yet extremely powerful and cost effective solution to review and approve or reject native PDF files.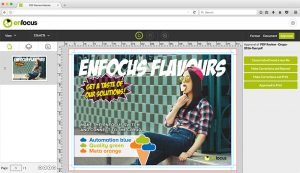 The PDF Review Module comes with all the necessary tools one would expect for an approval platform, including a few unique ones. Users have the ability to look at the individual color separations, check for ink coverage, add annotations, a densitometer tool is available, as is a wireframe view. Document information can be seen, and when an object in the PDF is selected, then they can see the attributes of that object just as they can in the PitStop Pro Inspector.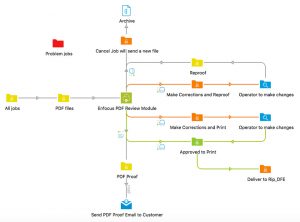 The PDF Review Module is provided as an app for Switch – which can be downloaded from the Enfocus Appstore – and an external web server application. The app is installed in Switch and can be added to any Switch flow. The web server can be installed either locally or externally in a customer's DMZ, in a datacenter or on a cloud server.
The PDF Review Module sends an email to a single customer, which can be designed in HTML and branded, and which will include a link. When this link is clicked, the customer's default browser opens and the high resolution PDF file is loaded displaying the content with all the functionality required to approve or reject the job with confidence including overprint preview. Crucial for the customer is that nothing else needs to be downloaded or installed, nor is a user name or password required. The interface is dynamic supporting different designs for tablet and desktop viewing.
The extremely clean and simple interface design has received very positive feedback and in addition, all the tools available to the user can be customised automatically for each individual customer, depending on their knowledge and experience.
For more information, please contact info@mediainc.ie